Cladding
The low-refractive-index material that surrounds the Core of an optical Fiber to contain core Light while protecting against surface contaminant scattering. In all Glass fibers, the cladding is glass. In plastic-clad Silica fibers, the plastic cladding may also serve as the coating.

The cladding completely encompasses the core and is made of glass that is more pure than the core. Because of the difference in glass purity, the boundary where the core and cladding meet becomes the reflective surface that keeps the light signal inside the core.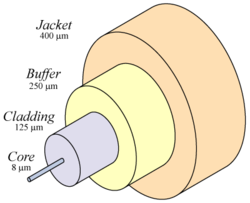 Sign up for the Timbercon newsletter:
This site uses cookies to enhance the user experience, and by browsing this site, you are accepting the receipt of cookies on your browser from this site. To manage use of cookies, please refer to your browser settings.
Click here to learn more
.